The use of radiotracers to non-invasively image living systems using Positron Emission Tomography (PET) is a powerful technique to investigate neurological disease. Within the MICL research is broadly directed into 3 areas:
Neurodegenerative Disease
The sensitivity and selectivity of radiotracers gives PET the ability for unique insights into neurodegenerative disorders and traumatic brain injury (TBI). We currently have interest in developing radiotracers to image Alzheimer's disease, Parkinson's disease, and TBI induced Epilepsy.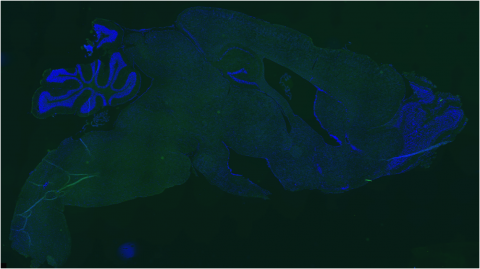 Key Publications
Li L, Brichard L, Larsen L, Menon DK, Smith RA, Murphy MP, Aigbirhio FI (2013),"Radiosynthesis of11-[(18)F] fluoroundecyltriphenylphosphonium (MitoF) as a potential mitochondria-specific positron emission tomography radiotracer." J Labelled Comp Radiopharm 56(14):717-21
Williamson DJ, Ejaz S, Sitnikov S, Fryer TD, Sawiak SJ, Burke P, Baron JC, Aigbirhio FI (2013), "A comparison of four PET tracers for brain hypoxia mapping in a rodent model of stroke." Nucl Med Biol 40(3):338-44


Neuropsychiatric Disease
The sensitivity and selectivity of  PET the ability to develop functional radiotracers to gather unique insights into neuropsychiatric disorders at the molecular level. We currently have interest in developing radiotracers to conduct pre-clinical imaging of OCD, ADHD, drug addiction and schizophrenia.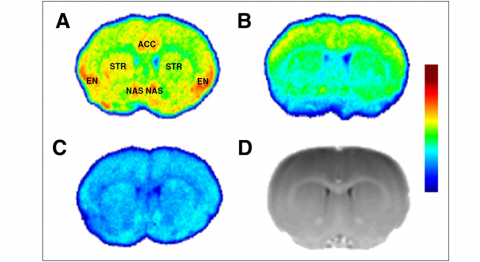 Key Publications
Caprioli D, Fryer TD, Sawiak SJ, Aigbirhio FI, Dalley JW (2013), "Translating positron emission tomography studies in animals to stimulant addiction: promises and pitfalls." Curr Opin Neurobiol 23(4):597-606
Riss PJ, Hong YT, Marton J, Caprioli D, Williamson DJ, Ferrari V, Saigal N, Roth BL, Henriksen G, Fryer TD, Dalley JW, Aigbirhio FI (2013), "Synthesis and evaluation of 18F-FE-PEO in rodents: an 18F-labeled full agonist for opioid receptor imaging." J Nucl Med 54(2):299-305
Riss PJ, Hooker JM, Shea C, Xu Y, Carter P, Warner D, Ferrari V, Kim SW, Aigbirhio FI, Fowler JS, Roesch F (2012), "Characterisation of [¹¹C]PR04.MZ in Papio anubis baboon: a selective high-affinity radioligand for quantitative imaging of the dopamine transporter." Bioorg Med Chem Lett 22(1):679-82


Radiochemical Methodology

          
Synthesis of molecules containing short lived radionuclides is often challenging. As a result the development of new radiochemical methodology to install new radioactive functional groups or higher yielding more tolerant radiochemical reactions is of significant interest.
Key Publications
Riss PJ, Lu S, Telu S, Aigbirhio FI, Pike VW (2012), "Cu(I)-catalyzed (11)C carboxylation of boronic acid esters: a rapid and convenient entry to (11)C-labeled carboxylic acids, esters, and amides." Angew Chem Int Ed Engl 51(11):2698-702
Riss PJ, Ferrari V, Brichard L, Burke P, Smith R, Aigbirhio FI (2012), "Direct, nucleophilic radiosynthesis of [18F]trifluoroalkyl tosylates: improved labelling procedures." Org Biomol Chem 10(34):6980-6
Riss PJ, Aigbirhio FI (2011), "A simple, rapid procedure for nucleophilic radiosynthesis of aliphatic [18F]trifluoromethyl groups." Chem Commun (Camb) 47(43):11873-5