A selection of the cyclotron and radiochemistry projects undertaken by the cyclotron team. For more information, please contact Paul Burke.

Cyclone Beam Profiler
A simple hardware and software combination designed to provide an indication of radial beam distribution on the cyclone 3d O-15 target
Detech!
Displays up to eight individual traces from a bespoke hardware interface. Option to switch between locally connected GM tubes and use the integrated power supply and pulse shaper, or to connect up a separate source of pulses. Software has the ability to trend data manually, or auto start when a threshold is reached. Traces are saved in Comma Separated Variable files and can be reviewed using the built in reviewer, or any CSV reader, such as MS Excel.
Cyclotron Maintenance Screen
A 64 channel data aquisition system that takes 0-5V signals from various sensors around the radiochemistry/cyclotron facility. This has the capability to calibrate, trend and set alarms on any 0-5v signal put into the hardware.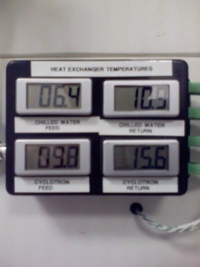 Cooling System Temperature Monitor
A four channel thermocouple temperature monitor, set up around the four ports of the cooling system heat exchanger.