News
---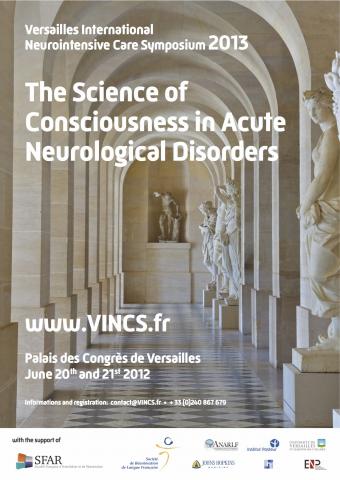 Dear Colleagues,
The third Versailles International Neurointensive Care Symposium (VINCS 2013) is held on June the 20th and 21st 2013 in the Palais des Congrès of Versailles, a few meters away from the Château.
The theme is "The Science of Consciousness in Acute Neurological Disorder".
VINCS 2013 builds on the success of the previous editions, VINCS 2011 and VINCS 2012, which were devoted to "delirium in the intensive care unit" and 'Brain injury and Brain repair, from bench to bedside". We would like to thank the Société Française d'Anesthésie-Réanimation (SFAR) and the Société de Réanimation de Langue Française (SRLF), the Association des Neuro-Anesthésistes de langue Française (ANARLF), the European Society of Intensive Care Medicine (ESICM), the International Society of International Symposium of Intensive Care and Emergency Medicine (ISICEM), the Neurocritical Care Society (NCS) and Institut Pasteur for their support or endorsement. Our special thanks go to the University of Versailles and the Johns Hopkins University as well as the Network For Neurosciences « Cerveau et Pensée », the Region Ile-de-France and the Ecole des Neurosciences de Paris, that demonstrate a permanent support to the promotion of Neurosciences.
The founding principle of this conference is to bridge ongoing research in basic and translational neuroscience with the clinical realm of Neurointensive Care Medicine.
On Day One we will discuss neurosciences paradigms of consciousness and advanced methods to explore it.
Day Two will be devoted to clinical conditions ranging from anesthesiology to intensive care unit, to diagnosis and therapeutic approaches, to limits and advantages of sophisticated neuroradiological and neurophysiological tools but also to ethical issues that clinicians have to deal with in time of tremendous advances in neurosciences and technics.
VINCS 2013 brings together a world-class group of researchers and clinicians working in this domain of neurosciences and taking care of patients who have developed consciousness disorders, respectively.
The conference will appeal to a broad audience of neuroscientists, neurologists, intensivists, anesthesiologists, physiatrists and radiologists who wish to learn more about the complexity of consciousness.
Meeting logistics and support are Emergence company and its director, M. Cyril Masseau, are in charge of the organization of this symposium.
We look forward to welcoming you next June in the beautiful and historical city of Versailles.
Yours sincerely,
Jean Mantz
Tarek Sharshar
Robert Stevens
---